2 Days Marrakesh to Zagora Dunes desert tour and back to Marrakesh
2 Days Tour From Marrakech To Zagora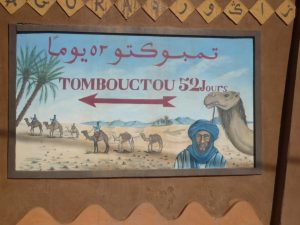 Read carefully our 2 Days Tour From Marrakech To Zagora – Excursions from Marrakesh itinerary in the following with Camel Trek. Please, keep in mind that, these dunes are small when compared to Erg Chebbi dunes.
2 Days Tour From Marrakech To Zagora
Day 1: Marrakech – Ait Benhaddou – Ouarzazate – Draa Valley – Zagora Dunes
The tour departs from Marrakech before 8:00 in a comfortable and air-conditioned minibus. After crossing the Atlas Mountains, we reach Kasbah Ait Ben Haddou and Ouarzazate. The Kasbah or Ksar where many Hollywood movies are being filmed. There is a possibility to visit the Atlas film studios either on the first or the other day.
Later on, you will have your lunch. After that,  you will travel to the south and cross the second pass which is Tizi N'Tnifift at 1710m and Ait Saoun village. the former route of caravans for Sahara traders coming from "Tombouktou", you will reach the first administrative center called "Agdez Village" that marks the source of Draa Valley, with it's 6 successive palm groves stating (Mezguita palmary, Fezouata…) and Kasbahs stating the famous Tamnougalt Kasbah. You will continue through the lunar landscapes and the Pre-Sahara routes until you get to Zagora town, the native region of the Saadian dynasty (Saadian tombs in Marrakech) who used to rule Morocco in the XVII century. You will take a camel trek on the sunset and get to the camp to enjoy your dinner and overnight in the tents.
Day 2: Zagora Dunes – Agdez – High Atlas & Tichka – Marrakech
Wake  up early to watch the sunrise over the dunes while having your  breakfast, after these  amazing moments you will ride  your  camels  back  to meet your driver, then drive back to Marrakech,
We will go toward Ouarzazate, then stop for lunch in a local restaurant. In the afternoon, you will continue to the Atlas Mountains to get to Marrakesh.  we will drop you off at your accommodation.
End of 2 days Zagora desert tour.
Where you will be staying?
We have a selection of accommodations, and to give more options to our clients, we have arranged the accommodations in two categories: The standard accommodation and  Mid-range accommodation (Luxury),  Note that you can mix nights between standard and mid-range accommodations and for this option let us know which night.
To see the accommodation we use in each city, please visit our "Accommodation"  page.
How much does this tour cost?
The price includes a package and it is based on many factors, such as the number of people, accommodation choice…
To have an idea about our pricing plans, please visit our "Pricing €"  page. the final price can have slight changes and for exact values. Please contact us by using our  "Booking" page.
What is included and not in the price?
Our packages include many things. To get to know what is included and excluded in the price of our excellent and ideal Morocco Sahara Desert Tours, please refer to our "Package" section on our website.
[maxbutton id="3″ ]                                            [maxbutton id="2″ ]
Click "Book this Trip" if you want to check our availability, book or ask more details about this trip.  Or click "Customize this Trip" if you want to modify and add some suggestions to this itinerary, to satisfy your desire.
(a new window will open)
Thank you for choosing 2 days tour from Marrakech to Zagora.