2 Days Fes To Merzouga Desert Tour
Fez To Fes Tours To Sahara Desert – 2 Days ITINERARY
2 Days Fes To Merzouga Desert Tour – This Trip from Fez to Fes Tours Merzouga, Erg Chebbi dunes allows you to travel to the deep south of Morocco,  to experience a camel trekking tour over the fabulous dunes of Erg Chebbi to reach the camp in the middle of desert; where you will spend the night in a nomad tents made of hair of camels and goats. In These 2 days, you will enjoy the scenery of the middle Atlas, view the cedar forest and feed the monkeys (Barbary apes), see the nomads living in tents, explore the gorge of Ziz along with its Valley. Get to know how they work with fossils in Erfoud and more than that to taste the best quality of dates. Hurry up to book your seat on this short trip from Fez to Merzouga and Erg Chebbi Dunes!
The 2 days FES TO Merzouga Tour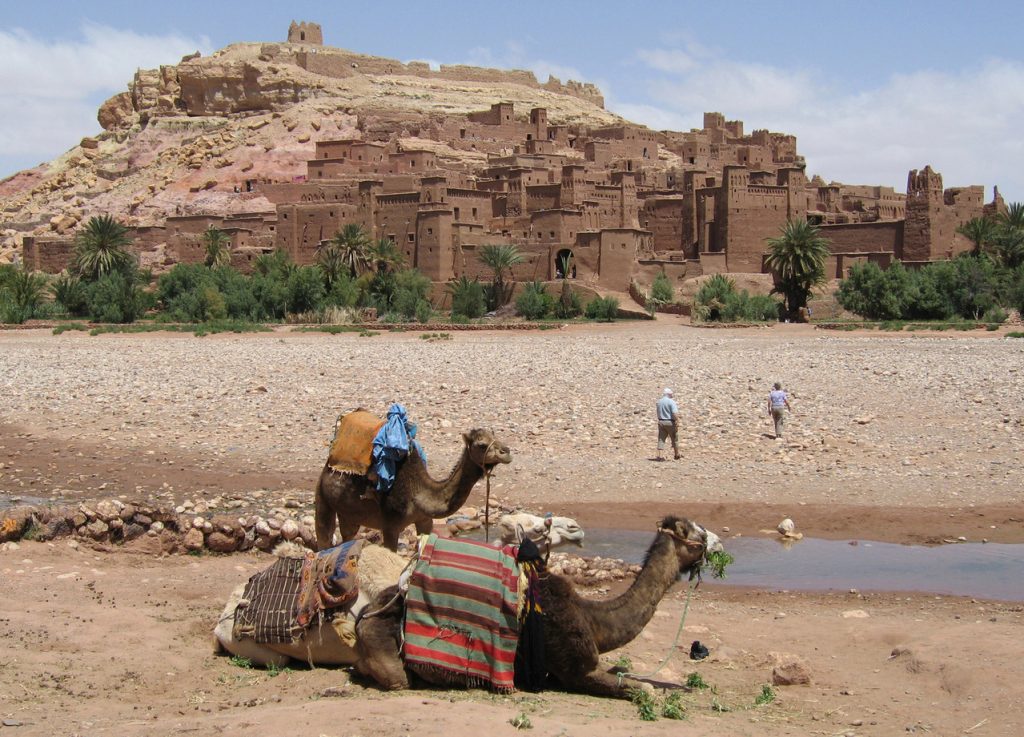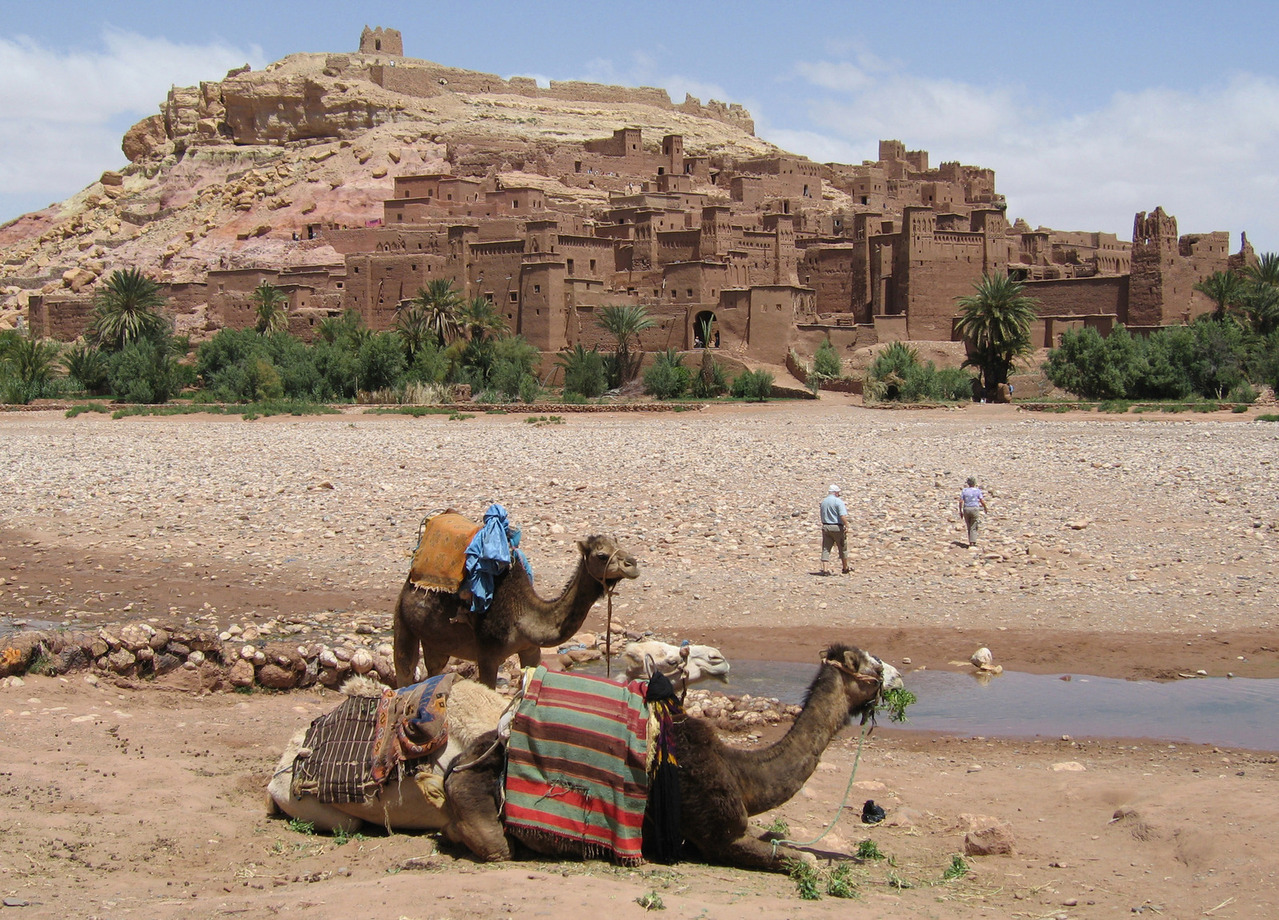 DESCRIPTION
The 2 Days Fes To Merzouga Desert Tour itinerary will allow you to see the real Moroccan Sahara Desert. Spend the overnight at a standard or luxury desert camp in the Erg Chebbi dunes. Ride your camel to watch the sunset or sunrise. Visit the Switzerland of Morocco and the Ziz valley, and much more.
Information About The Trip
Destination: From Fes To Merzouga ( Erg Chebbi Dunes)
Duration: 2 Days/1 Night
Starting time: 8:00/9:00 AM
Ending time: 18:00/19:00 Pm
Category: Private or Shared tour.
Accommodation: Standard or luxury hotels and desert camp depending on your choice.
Languages: English speaking driver or depending on your language availability.
Payment: Direct payment to the driver in Cash by any currency
The Middle and High Atlas Mountains
Ifrane 
Azrou ( cedar forest)
Ziz Gorge
Ziz Valley
Erg Chebbi dunes ( Merzouga)
Rissani
ITINERARY
2 Days / 1 Night, Fes To Fes Desert Tour – Via Erg Chebbi Dunes
Day 1: Fes – Ifrane – Azrou – Midelt – Ziz Valley – Erg Chebbi Dunes.
Pick up from your hotel in Fes very earlier and departure for the south of Morocco. You will have a stop in Ifrane, known as the Switzerland of Morocco to enjoy its beauty and to have memorable photos. After that, you will head toward Azrou to see the monkeys in the cedar forest. Continuing to Midelt for a lunch meal in a restaurant. In the afternoon, we will cross the pass of TIZI N TALGHAMT to reach Errachidia while admiring the views of Ziz gorges. Later on, you will have a stop for a panoramic view of Ziz valley. The drive continues to Erg Chebbi Dunes passing by Aoufous and Erfoud (the last is famous with fossils and dates) where you may want to visit a local fossil craft workshop. After that, you will continue to the captivating dunes of Erg Chebbi, Merzouga Dunes. Arrive at the hotel and get ready for a camel trek for an hour and a half to enjoy the sunset. While on the back of your dromedary, you will continue to the camp for an overnight in a traditional nomad tent. Dinner and spend the night in a bivouac in the middle of the dunes.
Day 2: Erg Chebbi Dunes – Fez
Wake up early morning to enjoy the sunrise on the top of the dune in the Sahara Desert then have your breakfast. After these beautiful moments, you will ride your camel back to the hotel where you can shower. Later on, we transfer you to Fez. Drop you off in Fes in your address you provided earlier.
Thank You, Everyone, For Visiting Our 2 Days Fes To Merzouga Desert Tour Page.
PRICES
The 2 days Fes  to Merzouga private or shared desert trip prices
How much does this tour cost?
The price includes a package and it is based on many factors, such as the number of people, accommodation choice…
To have an idea about our pricing plans, please visit our "Pricing €"  page. the final price can have slight changes and for exact values. Please contact us by using our  "Booking" page.
THE PRICING OF 2 DAYS FES TO MERZOUGA DESERT TOUR
Price range per person based on Standard accommodation
| | | | | | | |
| --- | --- | --- | --- | --- | --- | --- |
| Number of Participants | 1 | 2 | 3 | 4 | 5 | 6 |
| Price per person | 660€ | 320€ | 285€ | 220€ | 200€ | 190€ |
Price range per person based on Mid-range accommodation
| | | | | | | |
| --- | --- | --- | --- | --- | --- | --- |
| Number of Participants | 1 | 2 | 3 | 4 | 5 | 6 |
| Price per person | 800€ | 380€ | 360€ | 340€ | 325€ | 300€ |
The Tour Price Includes
+Private A/C Van or 4×4 vehicle
+Fuel
+English speaking driver or a driver+a personal guide who speaks English.
+Pick up & Drop off at your accommodation
+Typical hotels, Kasbahs, Riads
+Camel ride
+Camel man (guide of the camel caravan)
+Overnight in a traditional nomad tent
+All breakfasts
+All Dinners in the desert line:  Midelt,  Ifrane, Azrou, Desert, Zagora, Dades, Ouarzazate, Ait Benhaddou and all the regions.(Vegetarian meal option available)
+Enough time to explore the sites: Kasbahs, Walks, Canyons, stops for photos and toilet.
The Tour Price Excludes
-Lunches
-Drinks
-Dinners in : Marrakech, Fes,  Agadir, Essaouira,  Meknes, Casablanca, Rabat, Chefchaouen, Tanger.. and all cities outside the desert line are NOT included
-Entrance fees to all sites and monuments
-Tipping Driver & Guides
-Accommodations  in the pick up and drop off cities, unless you want us to book them.
ACCOMMODATION
We have a selection of accommodations, and to give more options to our dear clients, we have arranged the accommodations in two categories: The standard accommodation and Mid-range accommodation (such as Luxury desert camp), Note that you can mix nights between standard and mid-range accommodations and for this option let us know which night. Please, check out our Accommodation ( Open link in a new tab) page and let us know your preference.
Note: We book the accommodations depending on availability. Also, in high season, we may book you on similar hotels that are not listed.
BOOK THE TOUR
If you have additional questions about this tour or would like to book it, please fill out the booking form below.
COPY TOUR TITLE:
3 DAYS FES TO MARRAKECH
SHARED TOUR
To join or participate in a shared group tour to the Sahara desert. View the TABLE and see if you can match with one of the proposed tours on this page: Join Group Tours.
To Invite Other People To Join Your Private Tour, Please fill the form below:
REVIEWS
Read our recent reviews.
WRITE US YOUR FEEDBACK
Here is the list of all the Desert Trips
We have listed all the popular Sahara Desert Trips departing from Fes and Marrakech below: