Morocco Camel Trekking & Merzouga Camel Ride
Welcome to the Morocco camel trekking & Merzouga camel ride page. The best destination of Morocco for a real Sahara desert expedition whether in a 4×4 vehicle or by dromedaries. Morocco's famous sand dunes are Erg Chebbi near Merzouga and Erg Chegaga near Zagora and & Mhamid. On this page, we focus on Erg Chebbi sea sand, Merzouga, Rissani and Erfoud.
Morocco Dromedary Trekking at Erg Chebbi Dunes
Our Morocco Camel Trekking page, explain to you how the tour on the back of your camel goes. Read it carefully and don't hesitate to ask if you need more clarifications.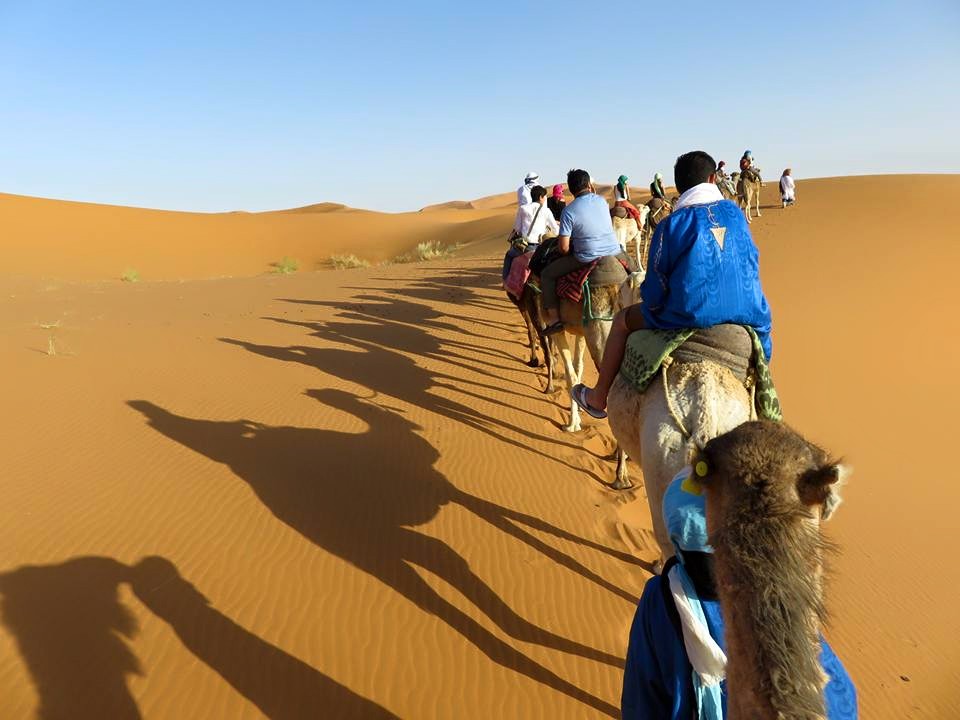 Overnight in a tent with a Camel ride
(This trip starts from Erfoud, 1-hour drive to the desert)
The highest and most impressive sand dunes in Morocco can be reached from Marrakech, Fes, and Ouarzazate. Please check our Morocco Desert Tours for a well organized Sahara tour that will save your time and erase your worries. If you are driving your rented car from Marrakech or Ouarzazate through the Todra Gorges you will pass by Erfoud which is a city base for sunset/sunrise excursion in a 4×4 for most tourist buses and also if you are coming from Fez through Errachidia.  In case that you prefer to drive your normal car from Ouarzazate via Agdez, N'kob, Tazarrine, Alnif you will pass by Rissani and Merzouga village. You can arrange for a 4×4 pick-up and transfer to Erg Chebbi with us.
The answer is so simple; these majestic dunes are accessible only by 4wd to cross the off-road
Overnight in a tent with a Camel ride
(This trip starts in front of the hotel at the dune line):
From the hotel at the edge of the dunes. You can take a camel trip and overnight in the Sahara Desert. You will trek on a dromedary for an hour and a half onto the dunes to watch the sunset. Then continue across the sand dunes of Erg Chebbi to reach the camp to spend the night in Nomad Berber tents and enjoy a traditional dinner. Enjoy drum party and browse the starry night sky. The next morning, get very earlier to see the breathtaking sunrise. After breakfast, the caravans will transfer you back to the hotel over the dunes for a shower.
Take a camel trip in the Sahara Desert at Erg Chebbi. You will trek on a camel for a 1/2-hour onto the dunes to watch the sunrise. Climb to the top of a dune and see the amazing view of the sun rising up over the Algerian border. Experience the calm and silence of the desert. Return back to the hotel located on the edge of the dunes for your morning breakfast.
From the Auberge located on the foot of the dunes, you will take a short camel ride for 1/2-hour to dive into the sea sand to reach the biggest and highest dunes for a wonderful view of the sun setting up while admiring the calm and peace of Sahara. Return to the Auberge to enjoy a delicious dinner or spend the night in a room or in the nearby tents.
Thank you for choosing Morocco Camel Trekking Tours.
Morocco camel trekking – Merzouga camel trekking – Morocco camel ride – Merzouga camel ride – Morocco Dromedary Trek
You are going to follow these easy steps to ride your camel comfortably:
Approach the sitting dromedary/camel from the left side.
Throw your leg over the middle of the humps and quickly mount it.
Lean back as the dromedary starts to stand and Slowly lean forward as it gets onto its front legs.
Note: If you have allergy with animal skin, please do wear long pants and socks to protect yourself.
A camel is always with two humps. and a dromedary is with only one hump.
Our company provides camel trekking experiences. The prices for camel trekking start from 20 Euros for sunset excursion and 45 to 90 Euros to a camel trekking into the dunes and sleep in a nomad camp or luxury bivouac, dinner and breakfast.
Where you will be staying?
We have a selection of accommodations, and to give more options to our clients, we have arranged the accommodations in two categories: The standard accommodation and  Mid-range accommodation (Luxury),  Note that you can mix nights between standard and mid-range accommodations and for this option let us know which night.
To see the accommodation we use in each city, please visit our "Accommodation"  page.
How much does this tour cost?
The price includes a package and it is based on many factors, such as the number of people, accommodation choice…
To have an idea about our pricing plans, please visit our "Pricing €"  page. the final price can have slight changes and for exact values. Please contact us by using our  "Booking" page.
What is included and not in the price?
Our packages include many things. To get to know what is included and excluded in the price of our excellent and ideal Morocco Sahara Desert Tours, please refer to our "Package" section on our website.
Click "Book this Trip" if you want to check our availability, book or ask more details about this trip.  Or click "Customize this Trip" if you want to modify and add some suggestions to this itinerary, to satisfy your desire.
(a new window will open)