Sahara Desert Trips – Morocco Tours & Excursions
We arrange Morocco Sahara Desert Trips. Book affordable Sahara desert tours with camel treks in Erg Chebbi dunes, Merzouga. Select to start from Marrakech or Fes. Spend a night or two in the desert campsite set in the vast Sahara. Take day excursions to visit Khamlia village and meet nomad people. Do sand-boarding activity on the sea sand. Use Quad biking (ATV) as a great way to discover the dunes area.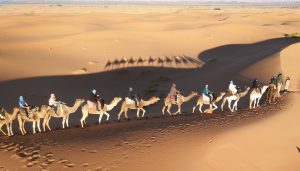 Best Morocco Tours – The Best Of 2019/2020
Our [Best Morocco tours] include Morocco desert tours from Marrakech and Desert tours from Fes. Start your tour from any city in Morocco. We can reasure you that we will be there for you to start your Morocco journey with us!
Morocco Day Trips & Excursions
Our Morocco Excursions vary depending on the cities of the country. We have Day Trips from Marrakech to Ouzoud waterfalls, Essaouira and Ourika Valley. We Also have Day Trips from Fes to Chefchaouen, Meknes, and Volubilis. You can Check also our Day Trips from Ouarzazate.
Sahara Desert Excursions & Activities
You might be wondering what Excursions & activities can you do in the Sahara Desert?
For the Excursions: we provide day tours around the erg chebbi dunes to explore the surrounding area whether from Errachidia, Erfoud, Rissani, Merzoga or Hassi Lbied.
For the the activities: Besides Riding a Camel, there are other things to do in the Sahara desert such as Ride a quad bike. Desert Spa Day in summer time( july- August). Stargazing: walk away from the camp light to enjoy Sahara Stars Gazing. Sand boarding: most camps can provide sandboard to use for free. Spot wildlife: birdwatching in the springtime (April- May) at Dayt Sarji lake. Watch the sunset/sunrise on the top of the dunes. Sit around the camp fire dance for local drum music.
Morocco Camel Trekking Tours
Most of the tours we offer can make your dream come true! We arrange your Camel riding in the Sahara Desert of Morocco. Get in touch with us if you don't know
How To Book The Best Sahara Desert Tour?
 For sure, we will come up with a customized plan for you.
Sahara Desert Camping
When in Morocco, spending a night in the Sahara desert camp is an experience not to be missed, even if it's just for one night. We provide variety of desert camps to enjoy your stay.
We Are Passionate About What We Organize
What sets us apart from the competition is that we're passionate about the products/services we provide and the quality of support.
WHY CHOOSE OUR SAHARA DESERT TOURS
If you are looking for a reliable tour operator in Morocco, "Sahara Desert Trips & Morocco Travels" is the ideal choice for you. Here are the reasons why:
Experience and Trustworthiness.
Friendly and Qualified Stuff.
Best Price Guarantee, no Hidden Fees.
The Variety of Tours and Programs.
The High Level of Service.
Personal Approach to Each Client.
Openness and Availability.
Your Trust In Us Is The Secret Of Our Success!
Guest Feedbacks & Reviews
We welcome and act on your feedback. We're always looking to improve every aspect of our small business. Read recent and online comments from our customers on TripAdvisor, Facebook or Google. Below are the feedbacks sent to us by email:
"My trip through the desert was absolutely wonderful and such a beautiful experience that I will not forget! Your driver was very knowledgeable about the areas we were passing through as well as an extremely courteous and safe driver! " Alquista
"Thanks again for the thoughtful service! I will recommend your company if I know anything who would like to join a tour in Morocco 🙂 " Duo Chen
"Keep up the good service and continued success in all you do. Warmest regards" Donald.
Easy-to-Browse Website:
Thank you for visiting our website. We have made our site Easy-to-Use, Professional and Simple Web Design, allowing visitors Easy Web Browsing. We hope you have found all the information you needed. If you have any further questions or would like a more detailed tour program feel free to Contact us.
Why choose us? Many reasons to choose Sahara Desert Trips  for Your Morocco Travels
Sahara Desert Tours & Sahara Desert Excursions
Our drivers/guides, are our strength from (Sahara Desert Trips),  they  have good level in English, and they are capable to speak some other languages as well, they are knowledgeable, motivated, strong and the most important  are friendly,  most of them have 10 years of experience, this is  the main reason why they make it great again!, and great again!
Our desert tours prices are fair and reasonable, we offer unique experiences, we use very comfortable cars, and many factors affect the tour cost. You'll pay more for similar packages with other providers, we talk about Price-performance ratio.
We keep promises and we are responsible to provide you with an authentic Sahara Desert Tours.
We offer full packages (Car with fuel, Guided Tour, accommodation…), as well we can customize your tour to fit your schedule and needs.
Our team is delighted to assist you to plan your tour and provide you with the most relevant advice. for free and in a reasonable time.
Watch It – Imagine It- Live It & Do It For Real
Morocco Lifetime Experience:
SAHARA DESERT VACATIONS
" Are you looking for a lifetime experience in Morocco desert where you will be able to ride a dromedary over the highest dunes of ( Erg Chebbi Dunes)… Dine under millions of glistening stars…Enjoy your evening party of Morocco local drums… experience the quietness of Morocco  Sahara nature… Sleep in traditional tents like Nomads do!!! Then, you are in the right place! SAHARA DESERT TOURS team is overjoyed to host you! So, are you willing to be our guest?"
Sahara Desert Trips HomePage