Morocco Desert Camps
Sahara Desert Trips arrange a wide selection of Morocco Desert Camps in the Sahara Desert. In particular, the southeast of Morocco's country. We offer two categories of camping; standard or luxury (level of comfort). Our desert camps are located approximately 45 km outside of Erfoud on the way to the highest sand dunes of Erg Chebbi- Merzouga. Both levels can provide you with an amazing night stays. Furthermore, you select according to your choices. Come to make the most of your Moroccan desert experience.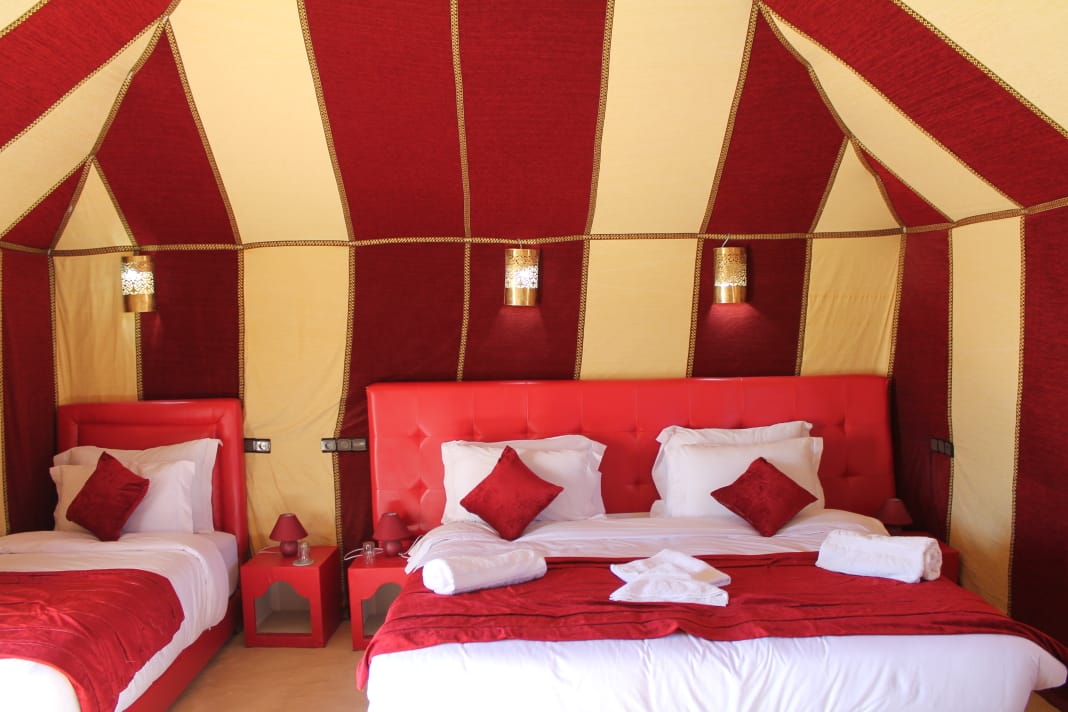 Why Sahara Desert Camping In Erg Chebbi/Merzouga Dunes?
Morocco Standard Sahara Camping:
The standard category of Sahara desert camping: is a camp set in a flat area with few trees (oasis)  around. The tents are lined up in a square, within it a fireplace in the center. These traditional tents are made of goat and camel hair. The toilet is set out of the camp and it is for public use. Inside each tent; you will find mattresses and blankets or sometimes a comfy bed. Dinner is served in the dining room in the winter time. After that, the staff will set the fireplace and start playing local drums.
Morocco Standard Camp Pricing: 60 $ Per person/night
To Book The Standard Morocco Desert Camps, Please Contact us
Morocco Luxury Desert Camps:
This luxury type of camping is the best which offers all the comforts. An exclusive camp in the Moroccan Sahara desert. The tents provide hotel room comfort and it comes with all bed sizes; king bed, double bed, twin beds or single bed. En-suite facilities incorporate a full-size shower with hot and cold water, a sink and a toilet. Our staff in the camp are constantly upbeat to help with influencing your night to remain a noteworthy one. After dinner time, enjoy desert Berber music of drums around the campfire.
Morocco Luxury Camp Tents & Pricing:
The Single Tent is ideal for solo Travellers.
The Double Tent is ideal for couples, marriages and honeymoons.
The Twin Tent is ideal for friends and families.
The Triple Tent is ideal for families and children. Extra beds can be added on request.
The Quadruple Tent is ideal for friends and families.
Morocco Luxury Camp Pricing:
To Book The Luxury Morocco Desert Camps, Please Contact us
Morocco Camel Trekking Tours & Bivouac:
Book the most popular Camel Trekking Tours in Morocco from Marrakech or Fes. We have the best price guaranteed. Read the reviews of your fellow travelers. Sahara Desert Camps with tents in Sahara. Experience sleeping in a desert tent in Morocco right in the Erg Chebbi Dunes.
Remark: Book or join one of our suggested Morocco desert tours to include a special night in our standard or luxury Morocco desert camps. We propose a variety of tour packages to choose from.
To Book The Morocco Camel Trekking Tours & Bivouac, Please Contact us
People Asking:
Can you camp in the Sahara Desert?
Yes, You can camp within Morocco's the Sahara Desert. whether in the dunes or The rocky black desert (Hamada). Our camping sites offer so much more for your desert experience, get to know local traditions and enjoy the nature of the Sahara desert.
Which camp to choose in the Sahara Desert?
Well, You can choose the desert camp within your budget. There Are hundreds of camps in the Sahara desert and pricing vary depending on the services provided.  
Where to stay in the Sahara desert of Morocco?
When you arrive in the Sahara desert, you will find so many options for accommodations where to stay overnight. There are hotels and standard/luxury camps on the edge of Erg Chebbi dunes and each provides a unique experience. We highly recommend staying at a luxury camp as it gives a great feeling while experiencing authentic and modern comfort.
How To Camp In The Sahara?
If you are an independent traveler, you can camp in the desert in one of the luxurious campsites. These new brand camping sites offer all the modern facilities.
How much is a luxury tent in Merzouga tonight/today?
The average price per night for a luxury tent in Merzouga/Erg Chebbi dunes today/tonight is 85 € (based on single occupancy).
What luxury camp in Merzouga have nice views?

Luxury Sahara Desert Camping have received amazing reviews from guests in Merzouga/Erg Chebbi regarding the stunning views from these affordable luxury tents.