Local Morocco Tour Company
Get to know more about us – About your Local Morocco Tour Company. Sahara Desert Trips was founded in 2010 by Youssef Karaoui and his team. We are one of the leading tour agencies in Morocco.
Due to the Coronavirus outbreak and following the instructions decreed by the local authorities, we inform you that SAHARA DESERT TRIPS services are temporarily suspended until further notice. We would like to remind our dear guests that their Booked tours are Postponed to other dates. We are still taking New Bookings for future travel. We apologize for the inconvenience.
Stay Home & Stay Safe Our Friends
Premium Travel Agency - Local Tour Operator 100%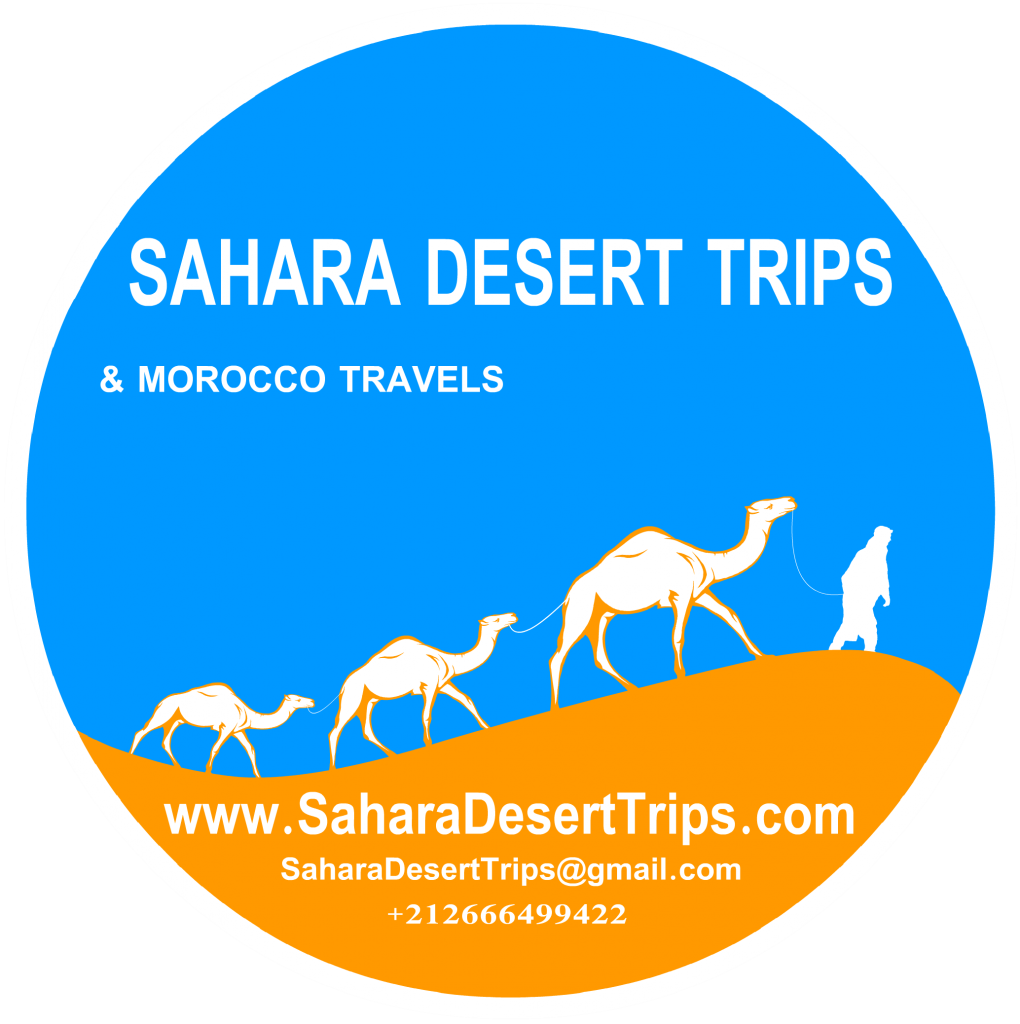 We are a tour company, with a registered name, based in the South East of Morocco and has branches in both Fes and Marrakech. We arrange desert trips & Morocco custom tours that will allow you to have a unique and authentic experience of Morocco's Sahara desert by riding a camel over the dunes of Erg Chebbi in Merzouga or the dunes of Chegaga in Zagora, watch the Saharan sunset on the back of your camel, climb the dunes and meditate for hours, listen to the silence, dine under millions of stars, enjoy drums party around the campfire and sleep in a traditional nomad tent.
Our team is committed to operating outstanding shared or private desert trips and tours at reasonable prices. We offer a wide range of desert trips from Fes, Marrakech, Ouarzazate, Casablanca,  Chefchaouen, Tanger, Agadir or elsewhere including overnight camel treks and comfortable vehicles.
Our company run by a team of professional drivers and knowledgeable guides that devoted themselves to the tourism sector for many years and proud to show the best of Morocco for their guests. We are Berber locals that eager to show you our country and hospitality.
Most of our clients start with a driver/guide and end with a friend,   Come and be our friend.
We are inviting you to a world full of history, stories; culture, excitement, and adventure, where you can have fun and learn at the same time.
Why Travel With Sahara Desert Trips?
Where You Can Connect With Us
The Story Behind the Most beautiful tours we create in Morocco.
Our story: Nowadays, You may hear about many Worldwide famous stories or stories of some people that they turned their dreams to a reality, and with a simple idea and a basic startup, they created what we call "Success".
In fact, that basic startup was not that easy as everyone can imagine or do, but it was a motivation, and a realistic view of the horizon,  the horizon that says that this Desert can bring something new to our lives.
The idea came when "Youssef Karaoui" decided to make a website to show how this Sahara Desert can be seen World Widely. by organizing some tours.
Building a website years ago has never been easy at all, especially with poor resources and knowledge.  when the design is the monopoly of the elite who hold the computer and technology degrees. This challenge didn't stop "Youssef Karaoui" and from home with an Internet line, he learned step by step how to build a website using the basic HTML code, and to present the content and talk to visitors in their mother language, he started improving by himself his level focusing on English, in addition to Spanish, Italian, French…
After launch, the website has got many visitors, so they started offering different Sahara Desert packages, negotiating in emails… thus the need to create partners over Morocco.
Sahara Desert Trips is forming a living and a chance of work for many families,  sons of the Desert, and it continues hiring Drivers and guides, cars…
Now Sahara Desert Trips is a registered name and it will continue improving and growing up…
Morocco Local Drivers & Guides
Our drivers and guides are well experienced and knowledgeable, with a great level of language speaking. They are smiley and friendly. They devoted themselves to the tourism sector for many years. All of them are proud to show the best of Morocco for their guests.
Most of them are local Berbers that eager to show you our country and hospitality.
Note that while having your desert tour; you can expect to have an English speaking driver; or a driver+a personal guide who speaks English.
Professional Drivers & Guides In Morocco
We are a professionally qualified local tour company, specializing in taking individuals, small groups and families on private, tailor-made tours all over Morocco. Our drivers and guides guide the tours with expert local knowledge, personal attention and years of experience. Book your private tour of Morocco now and let our local drivers and guides show you around!
Come and befriend them!
What People Says About Us
Do Business With Us – Sahara Desert Trips Resources
We're really pleased to create new partnerships,  around the globe. To do business with us, please contact us to know more about you.
For our Accommodations & Hotels partners, please visit our "Accommodation" page. You can always request to add your accommodation weblink to our page.
Our teams and  other direct business partners:
Why Do A Business With Us?
We have been doing the job right since 2009 and we do it with pride.
Our company is family-owned.
We do not hide fees for our tours.
Your privacy is well protected.
We answer all your questions and requests.
Advertise Resources  & Links Exchange – Seats In Tours and Safaris
Advertise Resources  & Links Exchange. Seats In Tours and Safaris. tours for advertising and promotion. Thanks for stopping by to inquire about partnering with Sahara Desert Trips, Tours, Excursions and Holidays.
Advertise Resources  & Links Exchange
This page titled Advertise is all about Resources  & Links Exchange. If you would like to advertise your trip, check out our page named Join Group Tours , Thanks.
Step 1 – Add our details on your website:
About Our Link: to show us on your website like that:  
Sahara Desert Trips & Morocco Tours
Copy and past  this  HTML code:      
https://www.saharadeserttrips.com/">Sahara Desert Trips & Morocco Tours
Title: Sahara Desert Trips & Morocco Tours
URL: https://www.saharadeserttrips.com/
Description: Sahara Desert Trips offers you private guided tours, Tailor-made holidays and customized itineraries through Morocco, all according to your requirements and tastes. We provide also 4×4 excursions and camel trekking in Sahara Desert as well as other travel services.
Step 2 – Send your details
Please send us all your website details + URL of the page where you added us.  And let us know what section in our website  is in your interest, we will study your inquiry and inform you by email once  we added your  website.
Does your travel agency in Morocco have a Tripadvisor page?
yes, we are listed on tripadvisor.com and also on Viator.com
Vehicles For Your Tour In Morocco
The best means of transportation to use while you are having a tour in Morocco is
4×4 /
 4WD vehicles.
Why a 4×4 vehicles instead of a normal vehicle or car rental,  it is because these majestic dunes are accessible by 4WD to cross the off-road, and also it is very comfortable. 
Below, you will have an idea about our brand new cars. We use white, Black or Grey  Toyota Prado (4×4/4WD).
It takes up to 7 people ( 6 people +the driver)
The car is divided into 3 levels  as you can see  in the slider:
Level 1:  the driver + one seat.
Level 2:  three seats.
Level 3:  two seats.
Off-road 4×4 Touring Cars
The Best Vehicles For Your Morocco Tours, Excursions And Transfers. Cars equipped with all comforts such as Off-road 4×4, van, mini-van mini-bus, and buses Touring.
For larger tour groups: we have other means of transport: Van, Mini-van and Minibus. We will take you on a tour around Morocco.