Top Morocco Desert Tours 2019/2020
Our Top Morocco Desert Tours are available all year round. If you are planning your first tour to Morocco, our classical tours are just for you. These trips and excursions offer magical experiences. It begins from Fes, Marrakech, Ouarzazate, Errachidia or elsewhere in the country toward the Erg Chebbi or Erg Chegaga dunes to ride a camel and sleep in Sahara Desert Camping. We design them to offer you the best possible experience.
Our Morocco Sahara Tours include 🐪 Morocco Camel Trekking. We have listed many tours on the left side of the website. So, it can be easier for you to choose the best tour program that suits you. Read More & Book Later!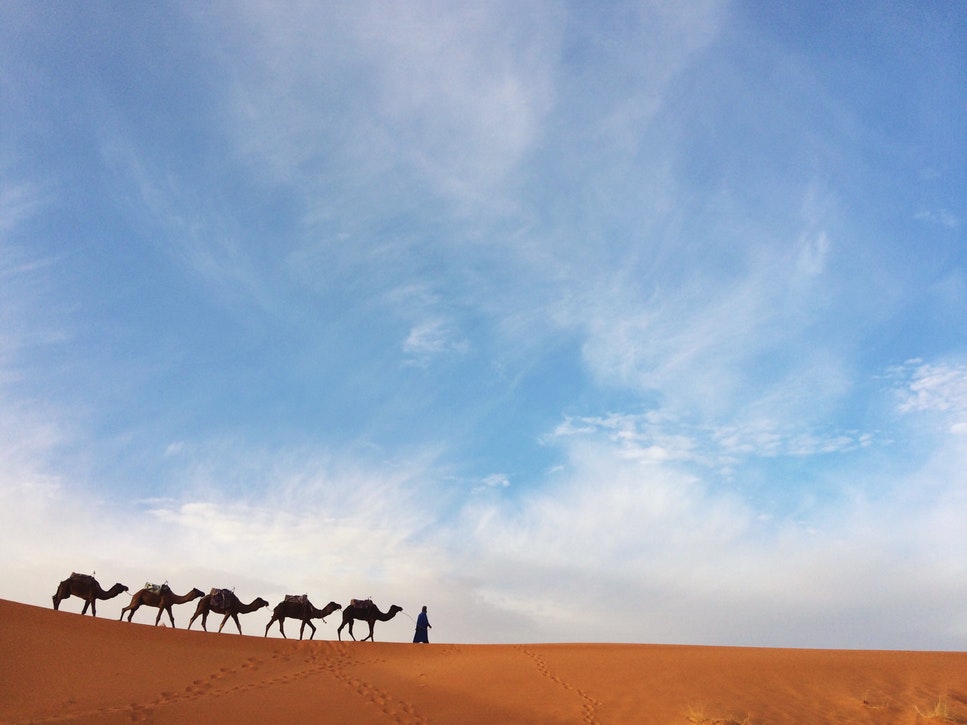 Morocco d

ese

rt tours from Marrakech
Our Morocco desert tours from Marrakech are unique safari adventures. We offer Shared desert tours and day excursions from Marrakesh as well. Please see the popular tours on the left side of the website.
Moroccan Sahara 

tours from Fes
What desert tour in Morocco is the best? Merzouga or Zagora? as a local tour operator, we would highly recommend private or shared desert tours from Fes to Merzouga.
Morocco Sahara 

tours from Ouarzazate
Here is a list of tours from Ouarzazate with Camel Trekking at sunset and Overnight in Traditional Nomad Tents. Sahara Desert Trips Team will show you how to arrange a perfect trip to Sahara.
Moroccan Sahara

 tours from Errachidia Airport
If you're thinking about starting your private desert tour from Errachidia, make sure that you click to browse our page.
Morocco 

tours from Casablanca
Morocco Tours starting from Casablanca, Desert trip from Casablanca include Camel Trekking takes you around the country. We organize the best selection of Morocco Tours. Book Your Tour Today With Our Travel Experts! Best Value Guarantee.
Morocco Sahara dese

rt tours from Tanger
It is time to explore Morocco with a knowledgeable local guide and see what others miss!
Moroccan Sahara dese

rt tours from Chefchaouen
Explore the white and blue city of Morocco which is a popular tourist attraction. Start a refreshing day trip from Chefchaouen and discover its Moroccan art and traditions.
Morocco dese

rt tours from Agadir
Start your day with Agadir excursions & activities to Paradise Valley. Pick up from the airport, cruise port or hotel included. Do a Quad/buggy Safari or boat trip around.
VIP & Luxury Trips In Morocco
Shared Morocco Dese

rt Tours

If you prefer to join other travelers on their trips to reduce the cost. Please check out our advertised Shared Morocco Tours. If your travel dates don't match. We highly suggest reserving a private tour. And advertise it on our web site. JOIN NOW
Custom Holidays To Morocco:
For independent travelers: do you wish to have a customized tour of Morocco? If you say YES, we can be your best Tour Operator. We organize holidays and vacations all over Morocco, that include private vehicles, English speaking drivers/guides, camel trek and much more. Our itineraries are perfect for all. It offers you an authentic experience on your Morocco journey with us!
Morocco Tailor-made Tours
We tailor-made tours to Morocco depending on your interests, schedule and travel budget. Our trips start anytime and anywhere in Morocco from Marrakech, Fes, Casablanca, Ouarzazate, Tangier, Rabat, or elsewhere on request. We invite you to experience our country to fullest and let our expert team design your lifetime trip. For further information, please don't hesitate to fill the form at the page Customize Morocco Trip.