Tour from Tangier ( Tanger ) to Chaoen/Chefchaouen 2 Days/ 1 Night
2 Days Tour From Tanger To Chefchaouen
Our 2 Days Tour From Tanger To Chefchaouen – Two Days Trip To Chaouen.
Tangier ( Tanger ) City, The getaway to Chaouen (Chefchaouen )
Travel to Tangier by ferry and spend a full-day around the exotic sights of the Kasbah and enjoy an authentic lunch. Marvel at the tremendous snake charmers and wander through the colorful stalls of the Bazaar. Choose Two Days Tanger Chefchaouen.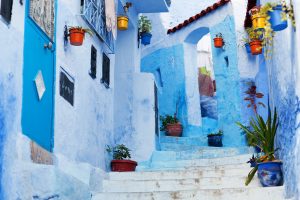 Tour from Tangier ( Tanger ) to Chaoen/Chefchaouen 2 Days/ 1 Night
Day 1: Tangier – Tetouan – Chefchaouen
We will meet you in Tarifa seaport and drive you to Chefchaouen, We will pass by Tetouan city with its houses view on the hills, and pass by the mountains of the Rif with the green sight of its green trees. Upon arrival to Chefchaouen, we will take you to have lunch in a traditional restaurant before we go on a visit to the blue city with our local guide. Afterwards, we will drive to our Riad for dinner and night. 2 Days tour from Tangier to Chefchaouen
Day 2: Chefchaouen – Tetouan – Tangier
After breakfast, you can take free time to walk around the blue city on your own to 12.30 PM, After you come back we will take the road back to Tangier via Rif green mountains and Tetouan, We will arrive at Tangier at 4:00 PM, We will take you your hotel or your cruiser ( According to your choice)